The Now How to Buying Real Estae in Argentina
Topic: How to Buy Real Estate
The Know How on purchasing property in
Argentina
. Investing in
Argentina
.
The growing interest of the Argentine real estate market among foreigners has not yet found a maximum. From productive business to holiday homes, Americans, French, English, Dutch are buying their dream property for little money and tons of potential.
As it always happens when embarking in new ventures, information is the key word to a complication free smooth deal. We've provided insightful tips and data, published articles in and around the web and forums. However, after reading some of the threads in renamed sites as well as due to the large number of inquires we had regarding this particular matter from our readers and frequent net surfers, we thought that the best way to clarify the process was through means of an easy ten step description.
As follows you'll be able to read a simple and clear direction steps going all the way from deciding on buying a property to actually doing so, complication free!
Ten easy steps to buying your property here in
Argentina
1)
Start searching for your property with the help of a Real Estate or Consulting Agent
3)
Get a personal Tax number
4)
Choose a property lawyer known as an "escribano" to help in your purchase and signing the final title of property
5)
Make an written offer thru the Real Estate Agent with a symbolic down payment of no more than a 1 or 2% value of property
6)
Choose best way to get funds into the country thru an exchange operator or an international branch of your home bank.
7)
Transfer legally funds into the country
8)
Offer to go straight to the Purchase of the Apartment, passing over the Boleto de Compra Venta, which is a private contract between to 2 parties, the seller and the buyer of the properties. Going directly to the Escritura or final deed of title which takes around anything from 15 to 30 days. This simpliyies the operation, but its not always possible.
9)
Pay and sign final property deed with seller and with your escribano.
10)
Get it certified and inscribed by your "escribano" and bingo! Finished
.
Above we've provided just an out line of a synthesized version in Ten easy steps…
During the upcoming days we'll be describing in time more detailed information.
We would gladly receive all sorts of contributions from insiders and experts to personal experiences.! All in all we'll be providing our own double checked information to both simplify and clarify the know how in becoming the owner of your dream home in Buenos Aires or anywhere else in Argentina.
For more information on apartments Buenos Aires or if you are interested in buying Art or Antiques, and you are thinking of travelling to Argentina please feel free to email us…….. Bob Frassinetti: For more information: Email: Bob Frassinetti.
Apartment Rent on Defensa Street 251, Buenos Aires.

Staying in Monserrat and San Telmo, a wonderful experience for the traveller who wants more… Monserrat and San Telmo is the top hip location in the city without exuding the "made for the tourist" feel some other places in the region might have. Bohemian, Artistic, Cultural, Amazing San Telmo is an expression of the novel Buenos Aires. This is the all friendly area for travellers par excellence, the artists' place, the city with a plus; that's why locals and visitors alike love this place. With a huge array of gourmet options mixed and matched with a broad variety of true local pubs, tango bars and cafes, Monserrat and San Telmo has what it takes. Just a stone throw away from any other major city site, San Telmo is indeed a perfect spot for the traveller who wants independence, freedom of movement at the time he or she wishes to capture the essence of "Portenos", that's what we are called. And while some prefer the traditional hotel option during their stay, we know that those travellers who travel following the lemma "When in Rome, do what Romans do", rather prefer to stay at their own place and enjoy Argentina as an Argentine. If that is your case, we have this apartment Fully Furnished for RENT on Defensa Street, but first take a look at the surrounding areas ...

Defensa Street and 251, Everything along Defensa Street, in-between the Alsina and Moreno Street, from the Saint Francis Church, the City Museum, the old Pharmacy on the corner and a great place to eat "asados", our Barbeques….. And last but not least, the Building at Defensa 251 where we have apartments to Rent. For more information on Buenos Aires email:

Email: admin@frassinetti.com Bob Frassinetti.

Contact me by phone Skype, ID: Bob Frassinetti or you can also chat with me thru Yahoo, press here:

Yahoo Contact Find me on MySpace and be my friend!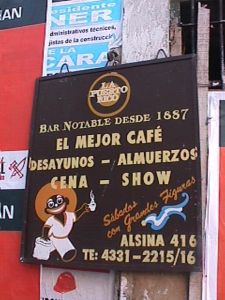 Puerto Rico Bar and Coffee
And so if you Need an apartment along Defensa Street in between San Telmo and Plaza de Mayo, the heart of Buenos Aires, Press Here. So if you are interested in Fashion, Art, Design or Antiques, and you are travelling to Buenos Aires, Argentina, or to Santiago, Chile or even Montevideo, Uruguay and need to buy and export these items or only need tips and travel information, please feel free to email us…….Please feel free to contact Bob Frassinetti with this email address: Email: Bob Frassinetti.
Phone me thru Skype, ID: Bob_Frassinetti or you can also chat with me using Yahoo or My Space links below, press here:

Yahoo Contact

Find me on MySpace and be my friend!

Invest in Argentina Real Estate an up running opportunity with a future, a recommendation by Bob Frassinetti Copyright 2007 Roberto Dario Frassinetti.

Phone me direct to my mobile phone: 00 54 911 44 75 39 83. Or when in B's A's: 15 44 75 39 83. Or to my studio: 00 54 11 47 92 47 87 in Buenos Aires, Argentina
Posted by bob frassinetti at 5:01 PM
Updated: Saturday, 7 July 2007 5:08 PM