Palermo Soho and Hollywood Gallery Nights 2007
Topic: Gallery Nights BA
Tonight, Wednesday 13 of June, so starting at seven in the evening, will begin this first Gallery Nights Old Palermo 2007, also known as today top notch arts area as Palermo Soho and Palermo Hollywood; one night with special events organized by Publisher Arte al Dia that summons all the lovers of the arts in an original nocturnal route that nucleate the art galleries, antique dealers, museums and cultural centers of this part of the city of Buenos Aires. Like always, there will be free street music and street spectacles throughout all the areas and even in some if the gallereis and the visitors will be received in each spot with a glass of Chandon as a welcome drink. Between the special proposals of the day the Space of Philadelphia Art - ESEADE will organize a round table on "conceptual Art, today, Buenos Aires" with the presence of Lic. Malena Babino, Florence Rooms and Maxi 19 Jacoby at Uriarte 2472. The route of Gallery Nights of Old Palermo extends between the streets Arevalo, Av. Cordoba, Medrano and Charcas. In order to facilitate the access to the visitors, a frees service of transport in buses identified with the logo of "Arte al Día Gallery Nights" will be implemented, that will have fixed shuttle service and will circulate constantly around the rout, see map.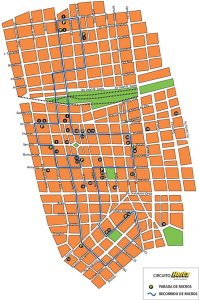 Map for Palermo Soho and Hollywood
So if you are interested in Art or Antiques, and you are thinking of travelling to Argentina Chile or Uruguay please feel free to email me…….. Please feel free to contact Bob Frassinetti: For more information:
Email: Bob Frassinetti.
Press here to see all topics on Art, Antiques and Travel Information for Buenos Aires & Argentina:
Everything on Art, Antiques, Collectibles as well as travel information for Buenos Aires, Argentina, Chile and Uruguay.
Phone me thru Skype, ID: Bob_Frassinetti or you can also chat with me thru Yahoo, press here:
Yahoo Contact
Find me on MySpace and be my friend!
Or Phone: +54 911 4475 3983 or in B's A's: 15 4475 3983 ) Invest in Argentina Real Estate an uprunning opportunity with a Future Read The Buenos Aires Art Dealer a e-zine magazine on Art, Antiques & Collectibles from Argentina.
The Buenos Aires ArtDealer, Argentina.
Galleries in Palermo Soho and Palermo Hollywood
1. ELSI DEL RIO
Arévalo 1748
Colectiva Post arteBA: Mariana Vidal, Celina Saubidet, José Luis Anzizar y Sofía Donovan. Y en el espacio de trastienda: Nico Sara y Marga Steinwasser.

2. RADIO PALERMO ESPACIO DE ARTE
Emilio Ravignani 1732
Colectiva de 5 artistas argentinos en homenaje a Juan Carlos Lasser

3. NUN Arte + Diseño
Costa Rica 5827
Maica Gonzalez Venzano - "Horizontes" - Pinturas

4. IN BY OPEN OFFICE
Godoy Cruz 1737 esq Honduras
La confluencia entre el arte y el diseño

5. ESPACIO URIARTE
Uriarte 1572 1° piso
Mario Roiter - "Dialécticas" – Pinturas

6. EL BORDE ARTE CONTEMPORANEO
Uriarte 1356
Ana Gendrot y Carlos Montes de Oca - Instalaciones

7. PABELLON 4 – MULTIESPACIO
Uriarte 1332
Lucila Poisson - "Existir no basta" - Pinturas, fotografias y objetos en sala Proyecto Cubo. Soledad Lacorte - "Ciclos y desenlaces" - Técnicas mixtas en Sala I. Catharina Burman - "Entre lineas" - Fotografías en Sala II. Curador: Nestor Zonana

8. DacilART
Pasaje Soria 5125
Andrea Bugno - Íconos Argentinos - Fotografía

9. THE PHOTO GALLERY - CECILIA PASTORE
Serrano 1536
"Retratos de Estudio/Studio Portraits" - Fotografía de Autor.

10. ESCARLATA - ESPACIO DE ARTE
Serrano 1408
Mariana Soibelson, Susana Silva, Adriana Lugones, Valeria Vizioli y otros. Asesor: Fortunato Roffé.

11. 925 GALERÍA DE ARTE
J. A. Cabrera 4937 - PB 1
M. Paluch, F. Gadano, M. Pena, J. Cataldo, C. Echevarría, L. Riccardi, S. Alonso, V. Kemeny, F. Mañanes, B. Greiser, Plata Textil, M. Segura, R. Ramponelli, M. Alejandra Koreck, M. Castelli, G. Carniglia, K. Segal, F. Schloeth, E. Casale, D. Dall`Aera, A. Antinolfi, C. Julio, D. Schimmel.

12. LAURA LAMBRÉ STUDIO en LA MEJOR FLOR
Honduras 4900 esq. Gurruchaga
Laura Lambré - "Noche de duendes" – Pinturas

13. ERNESTO CATENA – FOTOGRAFIA CONTEMPORANEA
Honduras 4882
Alejandra Urresti- Ignacio Iasparra- Carlos Herrera

14. CENTRO CULTURAL TEKEYÁN
Armenia 1329
Lo último de G. Arian, S. Aschian, M. Gheridian, M. Hovaghimian, B. Margossian, E. Markarian, H. Potikian, M. Sahakian, V. Simonian, M. Yernazian, N. Youssefian, C. Callan, G. Vardanian, R. Paragamian, G. Dergarabedian, J. Tagtachian.

15. VIVENDI MUEBLES Y DISEÑO
Honduras 4660
Las últimas tendencias en arte y diseño

16. DESDE LA PLÁSTICA ESPACIO DE ARTE
Gascón 1159
Nicole Di Camillo - Esculturas. Liviana Giannetti, María Ester Palermo y Graciela Sukich – Pinturas

17. ESPACIO FLICHMAN
F. A. de Figueroa 1658
Silvia Flichman, Norma Santoandré, Nancy Alpern – Pinturas
Adriana Cimino Torres - Grabados. Guillermo Giambiagi - Fotografías
Mariana Brihuega -Esculturas

18. CRIMSON
F. A. de Figueroa 1800, esq. Julián Alvarez
Emilio Fatuzzo, Jazmín López - Pinturas. Lucila Amatista – Dibujos

19. CLÁSICO Y MODERNO
Medrano 1906, entre Mansilla y Charcas
Muestra colectiva de artistas de la galería

20. ESPACIO PALLEROS
Nicaragua 4462
Nicolás Muzzupappa, Barbara Ritter y Graciela Vizcarra - Figuracion/Abstracción

21. TERESA ANCHORENA
Malabia 1782
Milo Lockett, Juan Andrés Videla, Odell, Felipe Pino y Rómulo Macció

22. ADD + ART
Malabia 1639
Carolina Ruscio X 2 – Series "Campos" y "Sirenas…añoranza del mar" – Pinturas

23. STALLION MUEBLES
Guatemala 4550
Victoria Simon - Fotografías fábulas. Julieta Escardo - Fotografías Serie Japón. Liliana Villanueva – Textiles. Luciana Betesh - Fotografías

24. CASA DE ARTE JUANA DE ARCO
Costa Rica 4574 - timbre botones
Tejiendo nido (en japonés) - Joyería japonesa

25. MAZAL ESPACIO DE ARTE
Costa Rica 4670
Romero Britto y Claudio Roncoli - Pinturas

26. ESPACIO 10 GALERIA DE ARTE
Guatemala 4757
Sala I: Viviana Oriola, Alicia Florio y Liliana Bianco - Pinturas.
Sala II: Norma Platini – Pinturas

27. ASTUCE ESPACIO DE ARTE
Borges 2016
Febe Defelipe - Pinturas

28. PABELLON 4 ARTE CONTEMPORANEO – HOTEL BO-BO
Guatemala 4882
Sebastián Pastorino y Alejandro Thornton - Pinturas. Curador: Nestor Zonana

29. PABELLON 4 ARTE CONTEMPORANEO – HOTEL VAIN
Thames 2226/8
Alejandro Thornton y Roberto Rey - Pinturas. Javier Bilatz - Arte digital. Curador: Nestor Zonana

30. ESPACIO DE ARTE PHILADELPHIA - ESEADE
Uriarte 2472
Roberto Padilla - "Signo sobre signo" - Arte conceptual. Curaduría de Silvia Sayús

31. THAMES GALERIA DE ARTE
Thames 1776
Dalia Alvarez - Objetos. Claudio Barragán y Graciela Olio -Máscaras.
Mariano Brizzola - Fotografía

32. BOUTIQUE DEL LIBRO PALERMO VIEJO
Thames 1762
Cris Schiavone - "Contenido implícito" - Pinturas

33. GRAFIS GALERIA DE ARTE CONTEMPORANEO
Thames 1653
Hugo Drucaroff – "Tiempo Propio" - Pinturas

34. GALERIA FORMA – UN MUNDO DE ARTE
Thames 1620
Ana Bellotti, Susana Dos Santos, Mauro Fernandez Fau, Mónica Lebedinsky, Carmen Pellizon, Karin Rubarth y Graciela Vizcarra - Pinturas.
Claudia De Ruiter – Esculturas
Posted by bob frassinetti at 12:01 AM
Updated: Wednesday, 13 June 2007 6:15 PM