Idolos en carton. Trading Card's & Album's
Topic: Toy Museum, Trading Cards
Idolos en carton. Trading Card's & Album's
See Picture IMag Gallery for the catalogue, "Idolos en carton". Trading Card's & Album's printed in Argentina from the 1900's till the 1980's. Cards and albumes only printed here in Argentina. Próximamente el Art and Toy en 3D, el primer Museo y Gallería en 3D de la Argentina, pronto por la web,...... ........ Topic: Art Museum Gallery Próximamente el Art and Toy en 3D, el primer Museo y Gallería en la Argentina y por Bob Frassinetti junto a un grupo de Inversionistas Nacionales e Internacionales, lanzan el primer Boutique Hotel y Gallería de arte y Museo de Juguete proyectado por la zona de Junín, Provincia de Buenos Aires, Argentina. Un exitoso modelo de inversión inmobiliaria que permite ser dueño y huésped a la vez, participar no solo obteniendo una mayor rentabilidad en el alquiler de la unidad y la posibilidad de utilizar los servicios del hotel a través de una membrecía especial, pero también disfrutar to todo los servicios del lugar ............ BIENVENIDOS A BUENOS AIRES TOY MUSEUM El Buenos Aires Toy Museum tiene el inmenso placer de invitarte a conocer pronto su nuevo sitio Web en español y en 3D, donde encontrarias nuevas secciones, notas, entrevistas a fabricantes, investigaciones, concursos, subastas, cientos de fotos sobre los juguetes y figuritas producidos en la Argentina a lo largo de la historia y una breve resena sobre cada uno de ellos. Nuestra intencion como miembros del primer museo del juguete argentino es que este sitio no se convierta en una mera exposicion sino en un espacio de conocimiento y aprendizaje para todo aquel que la visita, y en pos de este fin es que desarrollamos esta nueva pagina. Nuestros equipos periodisticos, de investigacion y de diseno trabajaron duramente para hacer esto posible, y lo siguen haciendo en vi­as de su perfeccionamiento. Esperamos que nuestro nuevo sitio Web en español y en 3D sea de tu agrado y que te conviertas en un asiduo visitante del museo, que semana a semana se actualizará para brindarte una mayor información y un mejor servicio. Tu satisfaccion es lo mas importante para nosotros. Por eso te pedimos que nos envias tus comentarios sobre el sitio. Tus consejos, datos, reprimendas, felicitaciones y preguntas sobre la comercializacion de los objetos son muy utiles para todos los que hacemos posible este proyecto, ya que nos sirven para mejorar aquello por lo que diariamente trabajamos. Sin mas palabras por mi parte, clickea en la direccion que te enviamos e ingresa en el mundo de los juguetes argentinos...... Desde ya, muchas gracias. Un saludo fraternal. Bob Frassinetti.
Meantime, ............... Read daily Up Dates on Art and Antiques for Buenos Aires, Argentina http://www.frassinetti.biz Argentina also exports antiques over 100 years old with the help of Bob Frassinetti Read all about the South of South America, Argentina, Chile and Uruguay on this link. Updated and new web site, The Buenos Aires Toy Museum, Argentina www.the-ba-toymuseum.com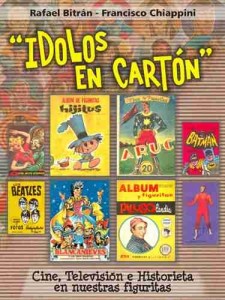 Only catalogue of Trading Card's & Album's from 1900
When you purchase an item at the Buenos Aires Toy Museum all profits are invested in the development of the Museum. When buying a toy from our Toy Museum you're not only buying a bit of the History of Argentina, but also contributing to the conservation of vintage and antiques toys, and to furthering the museum's research project on Argentine toy industries and to rescue valuable items for forget and the pass of time. Thank you for helping us to keep on developing this fantastic project! The Buenos Aires, "Toy Museum Team". For more information :
Email: The Buenos Aires Toy Museum, Bob Frassinetti.
Press here to go to the 3D TEST SITE of the Buenos Aires Toy Museum :
The Buenos Aires Toy Museum, Argentina.
Bob Frassinetti http://www.the-ba-toymuseum.com/
Comments (0) | Add a Comment
Posted by bob frassinetti at 1:42 PM