Willy Station Wagon made in Argentina by Kaiser Frazer
Topic: Toy Museum, Research Work
Willy Station Wagon made in Argentina by Kaiser Frazer
Bob Frassinetti and The Buenos Aires Art Dealer is developing the ultimate you'll get to experience the true feel of our unspoiled paradises, best great life Overland Estanciera Station Wagon Tour, along all these sites and places. Aboard one of Argentina's auto industry greatest trade marks, hotels and true amazing food. The best way of enjoy Argentina is as its lovers do: in style, sophistication and taking the pleasures of life.

ESTANCIERA IKA1963 Jeep Willy from Argentina



Ruta 40, Route 40

Introduced a year after the first civilian Jeep vehicle the Willys-Overland all-steel station wagon is an auto industry icon and milestone. The original Jeep vehicle was born of necessity and hand-built in just seven weeks with lots of hard work and genius to fit the US Army needs back in World War 2.
The Army put out a call to automobile manufacturers asking for a running prototype for such a vehicle in just 49 days Willys Overland ended up supplying more than 330,000 units.
The evolution of the 1946 Willys Utility Vehicle has come to our days as Cherokee and Grand Cherokee, a true trademark of 4WD and utility vehicles.

The 'Jeep' station wagon had pressed steel framing and three-tone paintwork which simulated the wood look. It used Jeep running gear and MB-style front sheet metal and was designed to compete against the "real" wood wagons still being manufactured by Detroit's Big Three. The new vehicle chassis was also available in a sedan delivery truck. Four-wheel-drive would become available in these models in 1949 along with the 148 cubic-inch 'Lightening' six-cylinder engine.



The 50s saw Willys-Overland four-wheel drive all-steel station wagon develop and conquer the world, and even licensed out its manufacturing to companies in Japan and Argentina.
In 1953 Willys-Overland, the original developer of the Jeep vehicle, was sold to the Henry J. Kaiser interests for $60 million. In our country, the original Willys became Argentine Kaiser Industry –IKA- trademark under the new concept of Estanciera 4WD.

The ownership of Willys has gone a long way now… The story tells that by 1950, Willys obtained a United States Trademark Registration for the Jeep trademark. Since then, ownership of the Jeep trademark, which is also registered internationally, has passed from Willys-Overland to Kaiser to American Motors Corporation, and most recently, to Chrysler Corporation. Today, Chrysler Corporation owns over 1,100 registrations for the Jeep? trademark throughout the world.


For more information: Email:
admin@frassinetti.com Bob Frassinetti.

The Buenos Aires Toy Museum, Argentina
Kaiser Frazer Willy Station Wagon, See the different toy and real models that we have been able to collect…… Please check out Photo Gallery: « | next »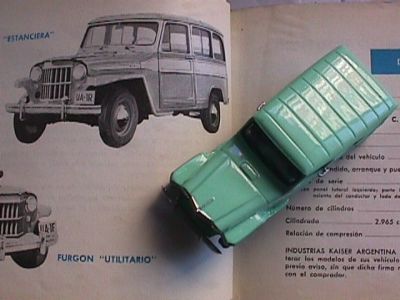 Kaiser Frazer Willy Station Wagon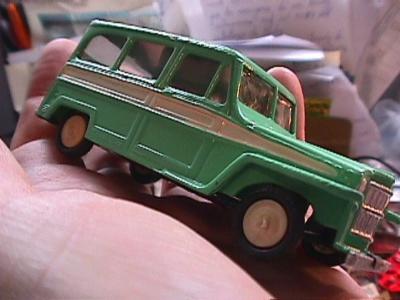 Estanciera Willy Jeep Station Wagon by Buby
Interested in buying antiques and collectibles from Buenos Aires or for that matter any other item that I have mentioned in any article you have found on this my web site, you can buy Toys from my museum and threw eBay, threw the Toy Museum on eBay press here;
Toy Museum on eBay
and threw The Buenos Aires ArtDealer, press here;
Art Dealer on eBay
From Art to Antiques. Or contact me direct. For more information :
Email Bob Frassinetti.
Press here to go to The Buenos Aires Art Dealer is a webzine magazine on Art, Antiques & Collectibles made or found in Argentina.
The Buenos Aires ArtDealer, Argentina.
Bob Frassinetti. Copyright 2005. Roberto Dario Frassinetti. Argentina.

Click to join artandantiques
RAre Kaiser Willy Toys made in Argentina and For Sale. For more information: Email: Bob Frassinetti.
Posted by bob frassinetti at 4:00 PM
Updated: Monday, 23 July 2007 4:29 PM