frassinetti.com
Topic: Bob Frassinetti
So for everthing from Art and Antiques either in Buenos Aires or other parts of Argentina as well as Chile and Uruguay read on .......
La Lucila
,
Buenos Aires
B1637AZJ
Argentina
ph:
+54 911 4475 3983
alt:
+54 11 4792 4787
admin@frassinetti.com
Where and how we can Help you ......... In Argentina, Chile or Uruguay.
We can help you with tips and advice for Topics that go from ......
Topic: Auction Tour for Arts & Antiques

Topic: Apartment Rent
Topic: How To Buy Real Estate in Argentina
Topic: Buying Arts & Antiques

Topic: Religions Tours
Topic: Fashion and Design
Topic: Lighthouse Tours in Argentina, Chile or Uruguay

Topic: Tango Tours
Topic: Train Travel Argentina
Topic: Rally Classic Car Tour
and ............
Topic: Route 40 Tour
....so Buenos Aires is Home and all South America is my backyard, travel trotter.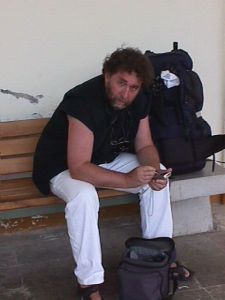 Bob Frassinetti in Chile
Bob Frassinetti, art and antique dealer and free lance journalist from Argentina, Buenos Aires, working on the web, writing both for pleasure and work on art, antiques and collectibles, in and on Buenos Aires, Argentina as well are neighbouring countries, Chile and Uruguay. "I've written for several Travel Adventure, Art & Antiques Magazines on and off the web and have researched Toys made here in Argentina, as well as Travel Adventure" Buenos Aires, Argentina 2007 So if you are interested in Art or Antiques, and you are thinking of travelling to Argentina Chile or Uruguay please feel free to email me…….. Please feel free to contact Bob Frassinetti: For more information:
Email: Bob Frassinetti.
Press here to see all topics on Art, Antiques and Travel Information for Buenos Aires & Argentina:
Everything on Art, Antiques, Collectibles as well as travel information for Buenos Aires, Argentina, Chile and Uruguay.
Phone me thru Skype, ID: Bob_Frassinetti or you can also chat with me thru Yahoo, press here:
Yahoo Contact
Find me on MySpace and be my friend!
Or Phone: +54 911 4475 3983 or in B's A's: 15 4475 3983 ) Invest in Argentina Real Estate an uprunning opportunity with a Future Read The Buenos Aires Art Dealer a e-zine magazine on Art, Antiques & Collectibles from Argentina.
The Buenos Aires ArtDealer
Up date on Buenos Aires Bob Frassinetti & Lonely Planet
Good news to all our readers and friends! Lonely planet's latest 4 th edition has come out and has recommended me to all as a tourist services, so we are know listed in both Argentina and Buenos Aires Guide Books.. I'm very happy about being mentioned and I hope this is a good tip for travellers coming to Buenos Aires –or any other Argentine location-… As I've been doing so far, I'll share our insider's point of view, tips and all information the visitor might need… And for those who want more, I also offer a customized tourist service, specially tailored to fit each and every one's needs of interest and passion.
Please feel free to contact me. I'm here to help you! More information on our personal tours: Art Dealer "personal" shopper in Buenos Aires, Argentina. Bob Frassinetti
The Early Years ....
Buenos Aires has become home & all of South America my back yard
The Big Island of Chileo, Chile, Bits of England.
Topic: Bob Frassinetti

Multiculturalism: My own Point of View, the early days:

Buenos Aires has become home, and all of South America as my back yard. I'm a true multi-cultural man. I was born in Argentina a long time ago now. My British Mom and my Italian-Argentine Dad had me and my brother traveling around the world, discovering amazing fantasy lands such as British Guyana and other Caribbean locations at a young age. After living only a couple of years in my native Argentina I have lived around the world, I'm Argentine by heart and British at the same time. If I had to choose I would breakfast in London, lunch at the Guyana and Dinner in Buenos Aires… May be that explains a lot of me… I also lived for many years in England. My teen years and a bit more I spent them at Mount St. Mary's College in Spinkhill, a small town near Sheffield in the English Midlands. This Jesuit boarding school was my home; my classmates were my family and some of the finest memories date from those years… I also travelled in the Bahamas, and back in those days one of my friends' had a small mansion by the sea side, where I spent several summers there, and once a group of 4 chaps, young, loud, and amazingly famous stayed there while touring and making a movie called, "Help" … their names were John, Paul, Ringo and George. Yes, The Beatles, so I also got to know them. It was the 70s and England was bursting with enthusiasm, creativity and wittiness. I'm happy to know I witnessed those amazing times. I have no doubt about the fact that those early experiences in my life have shaped my mind, my soul and my interests, that today I see taking shape and body in the broad cultural project I develop passionately every day. As Latin as I am, thanks to my Pop's influence, I feel deeply passionate about art, style, culture… As a Brit as I have come to be, I feel English is my mother tongue, the borderless language that allows us individuals to transcend geographical borders and limits, the language of my thoughts and my chats… Thanks to my lifetime experiences I've become who I am, and along the way many of my projects, those that start in one's mind and come to take shape along the road of life, began to be real and my input in this modern global world.

I'm a proud citizen of the world, who has chosen Buenos Aires to become home, and all of South America as my back yard.

And s

o if you are interested in anything from Fashion to Art, from Design or Antiques, and you are travelling to Buenos Aires, Argentina, or to Santiago, Chile or even Montevideo, Uruguay and need to buy and export these items or only need tips and travel information, please feel free to email to contact Bob Frassinetti with this email address: Email: Bob Frassinetti.
Traveling is all about meeting people, going through different experiences, enjoying different cultures and discovering foreign and interesting sites.

I've traveled throughout the south of South America, and I truly believe that a great part of making a memorable experience out of a journey is meeting people, locals specially.

Getting to know the site through a local's point of view is a wonderful experience, off the path outings… following the popular saying: "when in Rome, you do what Romans do". That's my leitmotiv when traveling.

I also adore my country. I'm a proud Argentinean who has discovered throughout the years the beauty and mysteries of this southern country. Hence I began sharing throughout forums and websites my experiences, tips on what to do when visiting our country. And as I kept on writing about the various customs of our culture I kept on discovering things –little treasures- that I thought were for granted. A great wine, an outstanding site within the city, my own refuge from the craziness of a cosmopolite city, an off the path antique fair… this has been a two way street experience, for at the same time I proudly share the beauties of my land, I have found myself discovering many new and interesting features too.

I even have met some great people through these forums, people who came to BA and met with me, with which we've had an amazing time and enjoyed a great conversation, a glass of outstanding Argentinean wine.

I've written about art & antiques, visiting the Patagonia or riding the train up to the Andes through the clouds, shopping and leisure in the city of Tango and of course, about the great pleasure Argentineans take on good eating. I've always focused on our most traditional dish, asado, for I've thought it was the most perfect way of getting into the Argentinean feel.

However I've recently discover, that Argentineans –alike many countries within the world who have been built hand in hand thanks to a great flow of immigration, are not all the same. We –as a nation- share our culture and language, but each and every one of us is unique. We each have a particular life's history that has made us be what we are, and it's important not to forget about that. To me, that particular part of myself is curry. Yes, food. Yes, Indian food, which I got into when I lived in London and in the British Guyana. My speciality is my Indian-British- Argentinean curry… Hmmm; Indian from origin, British for it's were I picked it up, and Argentinean for non of these countries have the superb kind of meat we have down here in Argentina and that adds that special something to it.

This is my bonding meal, I cook it for my special people. It's a ceremony which I find most amusing.

Not to brag, but it's the best curry in the country! I won't say my secret for I'm an artist, and that would spoil the magic… You must come down here and experience it yourself.
So for everthing from Art and Antiques either in Buenos Aires or other parts of Argentina as well as Chile and Uruguay read on .......
La Lucila, Buenos Aires B1637AZJ
Argentina
ph: +54 911 4475 3983
alt: +54 11 4792 4787
admin@frassinetti.com
Posted by bob frassinetti at 9:05 PM
Updated: Monday, 16 July 2007 10:55 PM