Cafe La Puerto Rico , down town Buenos Aires
Topic: Apartment Rent
Cafe La Puerto Rico opened its doors for the first time in 1887. Today is a notable bar-café, a protected historical café by the city's government and also listed in the Book Cafes de Buenos Aires, see photos below…..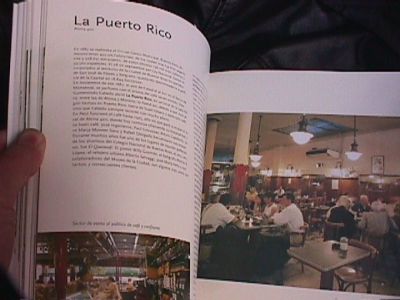 This book is tiled in Spanish as Cafes de Buenos Aires, Coffee Bars in Buenos Aries
Puerto Rico, on Alsina Street ...... Modern or Classic, hip or traditional, shaggy or well staged, the option is as broad as one can imagine. This is a two century old tradition that started with the flows of European Immigrants. Those origin old continent marks can be traced in our cafes. For example, the great pleasure taken in small strong cups of espresso coffee is without a doubt Italian origin. While the Spanish input can be found in the variety of snack like appetizers known in the Peninsula as Tapas and in Buenos Aires as picada (literally meaning chopped, for it consists in small plates of cold cuts, cheese, veggies, etc) or tablita (because it was sually served in a wooden cutting board). As to the other influence, I think France is the place; for no other country in the planet worships cafes as a philosophical round table scenario as French and Argentines do. The combination of those influences together with the very sense of Argentines and portenos created a particular cafe culture that's typical of our capital city. Visitors from around the globe when visiting Buenos Aires usually delight themselves with great food, but the last place they think that might raise some eyebrows is a cafe, but it happens. After the perfect grilled Argentine steak, the most delicious pasta dish and superb ice cream, the culinary surprises brought by the argentine palate might seem covered. But you haven't tried Buenos Aires flavour until you enjoy an espresso and a tostado. The consistency and rich flavor beheld in the small cup complements perfectly crispy thin bread layers mixed with just a perfect slice of ham and cheese. Within its simplicity this true Argentine combo is a treat to the senses. So if you are interested in Art or Antiques, and you are thinking of travelling to Argentina Chile or Uruguay please feel free to email me…….. Please feel free to contact Bob Frassinetti: For more information:
Email: Bob Frassinetti.
Press here to see all topics on Art, Antiques and Travel Information for Buenos Aires & Argentina:
Everything on Art, Antiques, Collectibles as well as travel information for Buenos Aires, Argentina, Chile and Uruguay.
Phone me thru Skype, ID: Bob_Frassinetti or you can also chat with me thru Yahoo, press here:
Yahoo Contact
Find me on MySpace and be my friend!
Or Phone: +54 911 4475 3983 or in B's A's: 15 4475 3983 ) Invest in Argentina Real Estate an uprunning opportunity with a Future Read The Buenos Aires Art Dealer a e-zine magazine on Art, Antiques & Collectibles from Argentina.
The Buenos Aires ArtDealer, Argentina.
Its black stone façade brought up by its pompous windows and lovely carpentry; behold the entrance to a timeless ambiance of tango, coffee, pastry and a lot more. A day like today back in 1887, in the Southern neighbourhood of Monserrat near the city's Cathedral, the quarter changed for good, once Don Gumersindo Cabedo opened La Puerto Rico, filling the air with the ever sweet smell of freshly grinned coffee. The café's name is in honour of the paradise like country of Puerto Rico, where the owner used to live before finally settling in Buenos Aires. Firstly located on Peru Street, but by 1925, La Puerto Rico moved to its actual location on Alsina 416 where we find it today. Just around the corner from the apartment we have to rent, on Defensa Street 251……….
Famous personalities of the local political scene such as Jose Ingenieros, Paul Groussac, Arturo Capdevilla, Jose Maria Monner Sanz and Rafael Obligado as well as artists such Willy Guzman, Alberto E. Lopez an outstanding photographer, Alberto Selvaggi watchmaker, architect Jose Maria Pena were among its frequent visitors. For many years, this café was the chosen spot for the National Buenos Aires School alumnae -the most important and sophisticated top notch college in the city.
This house of coffee, passion and tango is one of the three oldest houses in the city, and it has maintained original to present. It is a must for every visitor and local seeking to discover the original feel of Buenos Aires, its people and its traditions.
Staying in Monserrat and San Telmo, a wonderful experience for the traveller who wants more… Monserrat and San Telmo is the top hip location in the city without exuding the "made for the tourist" feel some other places in the region might have. Bohemian, Artistic, Cultural, Amazing San Telmo is an expression of the novel Buenos Aires. This is the all friendly area for travellers par excellence, the artists' place, the city with a plus; that's why locals and visitors alike love this place. With a huge array of gourmet options mixed and matched with a broad variety of true local pubs, tango bars and cafes, Monserrat and San Telmo has what it takes. Just a stone throw away from any other major city site, San Telmo is indeed a perfect spot for the traveller who wants independence, freedom of movement at the time he or she wishes to capture the essence of "Portenos", that's what we are called. And while some prefer the traditional hotel option during their stay, we know that those travellers who travel following the lemma "When in Rome, do what Romans do", rather prefer to stay at their own place and enjoy Argentina as an Argentine. If that is your case, we have this apartment Fully Furnished for RENT on Defensa Street, but first take a look at the surrounding areas ...
Defensa Street and 251, Everything along Defensa Street, in-between the Alsina and Moreno Street, from the Saint Francis Church, the City Museum, the old Pharmacy on the corner and a great place to eat "asados", our Barbeques….. And last but not least, the Building at Defensa 251 where we have apartments to Rent. For more information on Buenos Aires email:
Email: admin@frassinetti.com Bob Frassinetti.
Contact me by phone Skype, ID: Bob Frassinetti or you can also chat with me thru Yahoo, press here:
Yahoo Contact
Find me on MySpace and be my friend!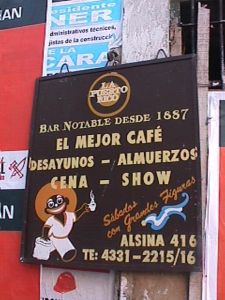 Puerto Rico Bar and Coffee
And so if you Need an apartment along Defensa Street in between San Telmo and Plaza de Mayo, the heart of Buenos Aires, Press Here. So if you are interested in Fashion, Art, Design or Antiques, and you are travelling to Buenos Aires, Argentina, or to Santiago, Chile or even Montevideo, Uruguay and need to buy and export these items or only need tips and travel information, please feel free to email us…….Please feel free to contact Bob Frassinetti with this email address: Email: Bob Frassinetti.
Phone me thru Skype, ID: Bob_Frassinetti or you can also chat with me using Yahoo or My Space links below, press here:

Yahoo Contact

Find me on MySpace and be my friend!

Invest in Argentina Real Estate an up running opportunity with a future, a recommendation by Bob Frassinetti Copyright 2007 Roberto Dario Frassinetti.

Phone me direct to my mobile phone: 00 54 911 44 75 39 83. Or when in B's A's: 15 44 75 39 83. Or to my studio: 00 54 11 47 92 47 87 in Buenos Aires, Argentina
Posted by bob frassinetti at 2:03 PM
Updated: Saturday, 30 June 2007 6:31 PM