The Buenos Aires Herald and Defensa 251 San Telmo
Topic: Real Estate Argentina
San Telmo, Flea Market
San Telmo,flea market,Feria de San Telmo, a touristy antiques market that fills the Plaza Dorrego with stalls heaped with all kinds of antiques, colletibles from costume jewelry, to vintage movie posters, toys made in Argentina and gorgeous Art work from all over the world.Open every Sunday.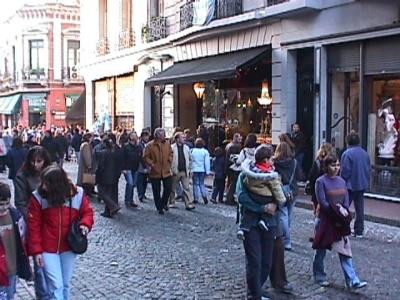 San Telmo for Antiques
So if you are interested in Art or Antiques, and you are travelling to Argentina please feel free to email us…….. and what about Collectibles and just to mention some like Advertising, Advertising Art, Architectural, Art Deco, Auto Parts, Badges, Banks, Beswick, Bottle, Bottle Openers, Bronze, Button, Calendars, Candy Containers, Carnival Glass, Chandeliers, Christmas, Coca Cola, Corkscrews, Elvis Presley, Ethnic Art, Ethnic Toys, Fans, Fishing, Fishing Reels, Folk Art, Francisco Adaro, Furniture, Lamps and lightning items, the wild 60's and 70's, Garden Furnishing, Girl Scout, Glass Art, Glass Contemporary, Golf, Halloween, Inkwells, Insulators, Ivory, Japanese Woodblock Prints, Jewellery, Judaic, Kitchen, Knife, Lamps, Lighters, Lightning Rod , Majolica, Match Holders, Medical, Motorcycles, Music, Napkin Rings, Nautical, Netsuke's, Nutcrackers, Paintings, Liberato Spisso, born Buenos Aires, Argentina. 14 March 1903, Portrait Artist, Viski, Jean ( Janos ) 1891 - 1961, Old Car, Paper, Paperweights, Pens, Pencils, Pencil Sharpeners, Pepsi Cola, Perfume Bottles, Pewter, Phonographs, Photography, Postcards, Posters, Prints, Radio, Railroad , Records, Steam Tractor, Scientific Instruments, Sewing, Sheet Music, Silver, Souvenirs, Sports, Stero Cards, Stereoscopes, Telephones, Television, Tools, Toys, "The Buenos Aires Toy Museum. Argentina", or a Tractor, Typewriters, Watch, Weapons, Weather Vanes, Wood Carvings, Wooden, World's Fair, to say Vito Campanella. Bob Frassinetti: For more information:
Email: Bob Frassinetti.
Press here to go back to web blog:
Daily Updates on Art, Antiques, Collectibles as well as travel information for Buenos Aires, Argentina.
Phone me thru Skype, ID: Bob Frassinetti or you can also chat with me thru Yahoo, press here:
Yahoo Contact
Find me on MySpace and be my friend!
Our ad is running in The Buenos Aires Herald, an English written newspaper with prestige from this Saturday, 26 of May 2007 for seven days, both in the printed section of the classified ads as well as the On-Line version of the newspaper….
Fully furnished apartments
Apartments for RENT on
Defensa Street
251
,
on the second floor …… One and a Two Bedroom Apartment,
in between
San Telmo
and Plaza de Mayo, the heart of the city of Buenos Aires
.
Both are fully f
urnished
and
with style.
They have amongst other things a
High Speed Internet
connection. And are suited w
ith all of today's comfort in
an
Architectural
Historic Building
resembling those found in cities like Paris or Madrid
.
They are available for
Rent
,
from one week, fortnight, and month or longer. No commission, administration nor Real Estate fees, free pick up at the airport. For more information e-mail,
admin@frassinetti.com
also
visit our web site
www.frassinetti.biz
for everything on Art & Antiques as well as Travel Information for Buenos Aires and Argentina by Bob Frassinetti, Mobile phone
for international calls
+54 911 4475 3983
or in Buenos Aires,
Mobile phone 15 4475 3983.
Photo Galleries; See surrounding neighbourhood areas as well as building front and inside and interior photos …..
81 photos
16 photos
So if you are interested in Art, Design or Antiques, and you are travelling to Buenos Aires, Argentina, or to Santiago, Chile or even Montevideo, Uruguay and need to buy and export these items or only need tips and travel information, please feel free to email us…….Please feel free to contact Bob Frassinetti with thsi email address: Email: Bob Frassinetti.
Phone me thru Skype, ID: Bob_Frassinetti or you can also chat with me using Yahoo or My Space links below, press here:

Yahoo Contact

Find me on MySpace and be my friend!

Invest in Argentina Real Estate an up running opportunity with a future, a recommendation by Bob Frassinetti Copyright 2007 Roberto Dario Frassinetti.

Phone me direct to my mobile phone: 00 54 911 44 75 39 83. Or when in B's A's: 15 44 75 39 83. Or to my studio: 00 54 11 47 92 47 87 in Buenos Aires, Argentina
Posted by bob frassinetti at 5:35 PM
Updated: Sunday, 27 May 2007 6:41 PM