Buby.Diecast toys made in Argentina from 1957 to 1995.
Topic: Toy Museum, News
Buby.Diecast toys made in Argentina from 1957 to 1995.

At the end of 1999, the first Buby catalog was published in Argentina. Buby, The History in Photos, is a fantastic masterpiece written by Lucien C. L. Brousse who unfortunately passed away last year. His book collects all the available information on all Buby collections -except for the Collectors Classics. The main focus on the book is set on a wide range of photographs that illustrate all Buby models, their characteristics and variations suffered by the models throughout Buby's production from 1957 to 1995. This is the only available catalog on Buby's diecast. It features 286 pages filled with very interesting black and white pictures. A fantastic input of the catalog is the Preface written by the owner and creator of the Buby diecasts, Mr. Haroldo "Buby" Mahler.

This great catalog is divided into four sections or parts, each of which with tons of information and exclusive data.
The first part features the Buby collection, meaning the 1:40, 1:43 scale diecasts. A general introduction leads us into a brief history of these models' production, their main characteristics and styles. Following there are two sections specially dedicated to detail all variations in wheels and boxes throughout time. Finishing this first part, all models of this collection are described and detailed photos as reference to those descriptions complete a thorough presentation of the 1:40-1:43 Buby collection.
The second part is dedicated to special vehicles and other toys made by Buby. Here the careful reader would be able to discover a wider picture of Buby's productions, his great care for details and high quality products. Also, here there's a preview of Buby's concern for diecasts collectors, for he developed several models that weren't exactly toys, but more over top quality collectibles.
The third part is fully dedicated to carefully describe the Mini Buby Collection, its history featuring product's variations within details such as wheels and boxes. There are descriptions to all Mini Buby series, their features and characteristics. Plus a section about special packaging cases and blisters.
Last but not least, the fourth part is a great input for all Buby collectors, for in this section there's a detailed list of all documents, catalogs and books that Mr. Lucien Brousse had found on this matter. At the end of this section we find a carefully organized reference number list for all Buby products throughout history.

Without a doubt, this is a masterpiece and a must for all worldwide collectors. It's a careful and precise work that has reunited a great deal of crucial information very valuable for all collectors.

To buy a copy of the Buby Catalog or further information on this matter please contact, Email: The Buenos Aires Toy
Museum,Bob Frassinetti.
The Buenos Aires The Buenos Aires
Toy Museum,Argentina.

Buby. The History in Pictures
Buby, The History in Photos, is a fantastic masterpiece written by Lucien C. L. Brousse.Diecast toys made by Buby from 1957 to 1995. The Buensos Aires Toy Museum,Argentina.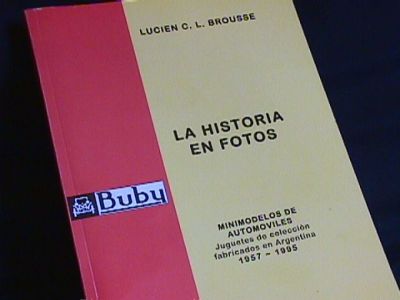 La Historia en
So if you are interested in Art, Design or Antiques, and you are travelling to Buenos Aires, Argentina, or to Santiago, Chile or even Montevideo, Uruguay and need to buy and export these items or only need tips and information, please feel free to email us…….Please feel free to contact Bob Frassinetti with thsi email address: Email: Bob Frassinetti.
Yahoo, Hotmail, and AOL users: my emails and message might be incorrectly detected as "spam" and moved to a "Spam" or "Bulk" folder. If this does happen, please mark the message as "Not Spam" to allow it to appear in your Inbox. Thank you.
Press here to go back to web blog:Daily Updates on Art, Antiques, Collectibles as well as travel information for Buenos Aires, Argentina. Phone me thru Skype, ID: Bob Frassinetti or you can also chat with me using Yahoo or My Space links below, press here:

Yahoo Contact

Find me on MySpace and be my friend!

Phone me direct to my mobile phone: 00 54 911 44 75 39 83. Or when in B's A's: 15 44 75 39 83. Or to my studio: 00 54 11 47 92 47 87 in Buenos Aires, Argentina

Click to join artandantiques
Bob Frassinetti Copyright 2007 Roberto Dario Frassinett
Posted by bob frassinetti at 6:45 PM