Garbage Pail Kids or Basuritas
Topic: Garbage Pail Kids
Garbage Pail Kids or Basuritas. Made in Argentina.
| | | |
| --- | --- | --- |
| | The Garbage Pail Kids Exhibition by the Buenos Aires Toy Museum | |
Basuritas- Garbage Pail Kids trading cards made in
Argentina
.
Grabage Pail Kids trading cards are famous all around the globe.
The story on this outstanding art shaped into trading cards begins earlier than most would think. Around the late years of 1960s when the American firm Topps began to develop the wacky packages, these were clever and sharp satiric images on the hottest massed consumed products in the States. In 1985 the first GPK series is issued. John Pound was the mind behind the parody of the traditional and lovely girl dolls Cabbage Patch Kids. His outstanding whit was the stepping stone for what would become a world wide movement of satiric intelligent word games.
This American designer genius is worshiped and beloved, for his creations are an outstanding acid humor version. Production was overwhelming prolific; from 1986 to 1989 Topps developed 15 collections featuring 622 trading cards, plus a latter B series… Overall they designed around 1200 witty and wacky trading cards. The success was undutiful. This uprising of success came to a harsh end when Cabbage Patch Kids' company sued Topps. From the 10th collection onwards alterations had to be done to the original designs for they had lost the lawsuit, and the golden years of GPK were now part of the past.
However this wouldn't be a dead end to GPK in spite of the fact that they weren't to be produced again in the States.
Inspired in the American version many countries have developed their own GPK series. Among the most famous ones are the Argentine version, which not only combines funny and wicked images but also words games with the first and last name. All the same the Argentinean designers have added some new motives and series. The first ones to introduce GPK were the executives of Stani –a candy company from
Argentina-
. First Argentine GPK were to be produced by Aladin and soon Ultrafigus a pioneer within the world of Argentine trading cards would take over the production. From the second series onwards Ultrafigus was the company in charge of the local GPK.

The Spanish adaptation of the brand name was inspired in the American GPK: Basuritas –local translation for the garbage ones. The first series was released in the late days of 1989. During those days there were many re-releases. Also during the first years of the 1990s another Argentinean company located in the
north west
of the country came up with the idea of Basuritas del cuerpo –featuring several alterations within the original GPK idea focusing on the exaltation of specific body parts. The early 90s welcomed us to a new and weird GPK South American version: Basuritas & Monsters which featured the early models altered and with new and interesting inputs first designed in
Chile
and then brought to
Argentina
, were it was adapted and altered to fit the local idiosyncrasy.
The evolution of these trading –collectibles has been impressive from every perspective, though there were some variations and alterations, once the designers returned to the original pattern the latest Basuritas 2 re release both blue and green packets and the less known, but equally interesting Basuritas 3 released early in 2004 had impacted considerably in all fans and collectors.
For the admiration and interest raised by all these fabulous characters, the
Buenos Aires
Museum
's latest input to the collectibles world has been terrific. Scale handcrafted sculptures of each and every one of the Basuritas characters are the obvious and necessary step in the world of GPK collectibles. Their quality and uniqueness, for each sculpture is specially crafted and there are no castings or serial models, it's an artwork based on an other piece of art which is the trading card design.
The world of GPK is growing increasingly. It couldn't be either way when the subject of matter is so interesting and stimulating for the eyes and the intellect!
Such is the impact of these characters created combing an interesting aesthetic approach together with an intelligent blend of art and wit, we began to wonder about the creative process behind the image, the way designers and creative teams came up with the names and jokes. After reading this interesting insight, we at the
Toy
Museum
began to imagine what kind of special names and images we could come up with. In Spanish many of the names had political connotations, for example Fortunato Mado (To- Mado is drunk in Spanish and it was a reference to a dictator who was president in 1981-82 who's name was Leopoldo Galtieri), or some other not political such as Eva Gancia (Va-Gancia means vagrancy), Hector Tilla (Tor-Tilla, Spanish for omelet), Roberto K Bustost (To-K- Bustos is Spanish for touching breasts, sort of a pervert…)… These are just some of the characters we've created so far.
In an interview published in
Argentina
to the latest Basuritas designer David, he was asked upon this process. The firs thing he stated was that he wanted to alter the least the original images, so it was crucial to come up with locally inspired names that had much to do with our South American, Argentinean and Latino culture. There are several music tributes such as Suzy Q –tribute to Creedence- or Luz Velito –the candle man- is a tribute to a very popular Argentinean rock band the Redonditos de Ricota.
It's important to state that Argentina wasn't the only country that lovingly embraced this art. Israel, Germany, France, Italy, New Zealand, Australia, Great Britain, Japan and Palestine are some of the countries who had developed their own GPK tradition and series… It wouldn't be either way, for it's not easy to find such an impressive and intelligent work of art and cleverness turn into a mass hobby.
Garbage Pail Kids, Basuritas, Argentina
Garbage Pail Kids, Basuritas made in Argentina:ALL original "Basuritas" from Argentina. In Spain they are know as,"La Pandilla Basura".In France as "Les Crados" and in Italy as "Sgorbians",in Israel,"Havurat Ha'zevel", Japan "Bukimi Kim", Norway and Africa "Garbage Gang" , so world wide collecters,get your set today from Argentina! Read on for more information, For more information:
Email: Bob Frassinetti.
Press here to go back to web blog:
Daily Updates on Art, Antiques, Collectibles as well as travel information for Buenos Aires, Argentina.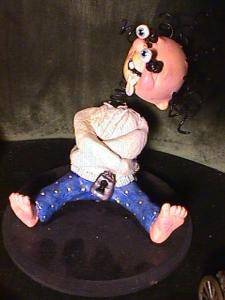 Basuritas, Argentina Trading Cards
Interested in buying antiques and collectibles from Buenos Aires or for that matter any other item that I have mentioned in any article you have found on this my web site, you can buy Toys from my museum and threw eBay, threw the Toy Museum on eBay press here;
Toy Museum on eBay
and threw The Buenos Aires ArtDealer, press here;
Art Dealer on eBay
From Art to Antiques. Or contact me direct. For more information :
Email Bob Frassinetti.
Press here to go to The Buenos Aires Art Dealer is a webzine magazine on Art, Antiques & Collectibles made or found in Argentina.
The Buenos Aires ArtDealer, Argentina.
Bob Frassinetti. Copyright 2005. Roberto Dario Frassinetti. Argentina.

Click to join artandantiqu
Posted by bob frassinetti at 1:13 PM
Updated: Tuesday, 30 October 2007 1:18 PM