Video Clips on Buenos Aires and Argentina
Topic: Video Clips
The Old Patagonia Express. "La Trochita",in the south of Argentina.
In the Patagonian southern lands of Argentina train lovers from around the world can find what has come to be a railways icon: The Old Patagonian Express, still running today on narrow gauge tracks only 29.5 inches wide. SEE VIDEO CLIP OF THIS STEAM ENGINE
Old Patagonia Express."La Trochita"
The Old Patagonia Express. "La Trochita",in the south of Argentina. Book by Sergio Sepiurka and Jorge Migliolo,only book on the Trochita that I have found, and with great details and wonderfull photos.A great addition to your train book collection.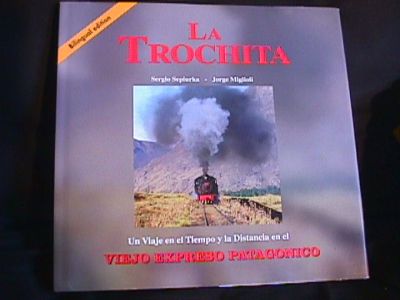 Route 40 Argentina and steam trains
Video Clips on Buenos Aires and Argentina, Press Here.
So if you are interested in Art, Design or Antiques, and you are travelling to Buenos Aires, Argentina, or to Santiago, Chile or even Montevideo, Uruguay and need to buy and export these items or only need tips and travel information, please feel free to email us…….Please feel free to contact Bob Frassinetti with thsi email address: Email: Bob Frassinetti.

Art & Antique Dealer Bob Frassinetti
Yahoo, Hotmail, and AOL users: my emails and message might be incorrectly detected as "spam" and moved to a "Spam" or "Bulk" folder. If this does happen, please mark the message as "Not Spam" to allow it to appear in your Inbox. Thank you.
Press here to go back to web blog:Daily Updates on Art, Antiques, Collectibles as well as travel information for Buenos Aires, Argentina. Phone me thru Skype, ID: Bob Frassinetti or you can also chat with me using Yahoo or My Space links below, press here:

Yahoo Contact

Find me on MySpace and be my friend!

"Invest in Argentina", recommendation by Bob Frassinetti Copyright 2007 Roberto Dario Frassinetti.
Phone me direct to my mobile phone: 00 54 911 44 75 39 83. Or when in B's A's: 15 44 75 39 83. Or to my studio: 00 54 11 47 92 47 87 in Buenos Aires, Argentina
Posted by bob frassinetti at 12:20 PM