All the Lighthouses in Argentina
Topic: Lighthouse Tour
Lighthouses, Argentina. Book by Servicio de Hidrografia Naval, Argentina. Only book on lighthouses in Argentina.Over 100 pages. All the lighthouses, and great details and wondderfull photos.A great addition to your collection. Email me for more information:
Email Bob Frassinetti.
The Buenos Aires Art Dealer,Argentina.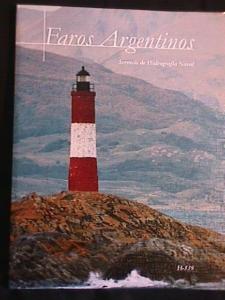 Lighthouses in Argentina
Some information on the book,has a hard cover, 102 full color pages,some 13 1/2 inches tall by 10 1/2 inches wide ... This book was made in honor of the 125th aniversary of the National hidography service center. It's a second edition ... throughout it's fantastic pages you'll find information, beautiful pictures and drawings on the folowing lighthouses: Punta Piedras, San Antonio, Punta Medanos , Querandi, Mar Chiquita, Punta Mogotes, Quequen, Claromeco, Recalcada a Bahia Blanca, El Rincon, Segunda Barranca, San Matias, Rio Negro, Almirante Brown, Punta Tehuelche, Punta Delgada, Punta Ninfas, San Gregorio, San Jorge, Cabo Blanco, Beauvoir, Isla Pinguino, Punda Medanosa, Cabo Virgenes, San Diego, Año Nuevo, Le Maire, Les Eclaireurs, 1 st of May and Esperanza. There are also special sections including fantastic photographs on Optics, Stairs, & Views. As well as the smaller brothers, "hermanos menores", the samller and different kind of lighthouses that are not built in concrete for their need to adapt to the particular weather conditions in the Patagiona and the nearby Antartic, and also several micelania information on collectibles of lighthouses. Last but not least, there's a bibliography section for all readers to be able to deepen the information on a particular matter. It's a full and complete book, top quality and with nothing similar ever been done with the Argentine lighthouses a must for any lighthouse fan. Hope this info clears up a bit about the book... please don't hesitate to ask any further questions on the matter.... Cheers, Bob Frassinetti. So if you are interested in Art or Antiques, passing threw Collectibles and just to mention some like Advertising, Advertising Art, Architectural, Art Deco, Auto Parts, Badges, Banks, Beswick, Bottle, Bottle Openers, Bronze, Button, Calendars, Candy Containers, Carnival Glass, Chandeliers, Christmas, Coca Cola, Corkscrews, Elvis Presley, Ethnic Art, Ethnic Toys, Fans, Fishing, Fishing Reels, Folk Art, Francisco Adaro, Furniture, Lamps and lightning items, the wild 60's and 70's, Garden Furnishing, Girl Scout, Glass Art, Glass Contemporary, Golf, Halloween, Inkwells, Insulators, Ivory, Japanese Woodblock Prints, Jewellery, Judaic, Kitchen, Knife, Lamps, Lighters, Lightning Rod , Majolica, Match Holders, Medical, Motorcycles, Music, Napkin Rings, Nautical, Netsuke's, Nutcrackers, Paintings, Liberato Spisso, born Buenos Aires, Argentina. 14 March 1903, Portrait Artist, Viski, Jean ( Janos ) 1891 - 1961, Old Car, Paper, Paperweights, Pens, Pencils, Pencil Sharpeners, Pepsi Cola, Perfume Bottles, Pewter, Phonographs, Photography, Postcards, Posters, Prints, Radio, Railroad , Records, Steam Tractor, Scientific Instruments, Sewing, Sheet Music, Silver, Souvenirs, Sports, Stero Cards, Stereoscopes, Telephones, Television, Tools, Toys, "The Buenos Aires Toy Museum. Argentina", Tractor, Typewriters, Watch, Weapons, Weather Vanes, Wood Carvings, Wooden, World's Fair, to say Wristwatches. So you can buy Toys from my museum and threw eBay, threw the Toy Museum on eBay press here;
Toy Museum on eBay
and thru The Buenos Aires ArtDealer, press here;
Art Dealer on eBay
From Art to Antiques. Please feel free to contact Flor Rodriquez by emailing her:
Email: Flor Rodriguez.
or Bob Frassinetti: For more information:
Email: Bob Frassinetti.
Press here to go back to web blog:
Daily Updates on Art, Antiques, Collectibles as well as travel information for Buenos Aires, Argentina.
Phone me thru Skype, ID: Bob Frassinetti or you can also chat with me thru Yahoo, press here:
Yahoo Contact
Find me on MySpace and be my friend!
So if you are interested in Art, Design or Antiques, and you are travelling to Buenos Aires, Argentina, or to Santiago, Chile or even Montevideo, Uruguay and need to buy and export these items or only need tips and information, please feel free to email us…….Please feel free to contact Bob Frassinetti with thsi email address: Email: Bob Frassinetti.

Art & Antique Dealer Bob Frassinetti
"Invest in Argentina", recommendation by Bob Frassinetti Copyright 2007 Roberto Dario Frassinett
Posted by bob frassinetti at 12:01 PM